Because patio doors work in a sliding motion, they differ massively from a normal residential door which commonly functions inwardly and outwardly. Most people utilise them as a way of creating a link between home and garden so that you have instant access onto a patio or decked area, but it is also customary to have them sandwiched in the middle of two internal rooms. Wherever they're positioned, they will transform your home's functionality forever.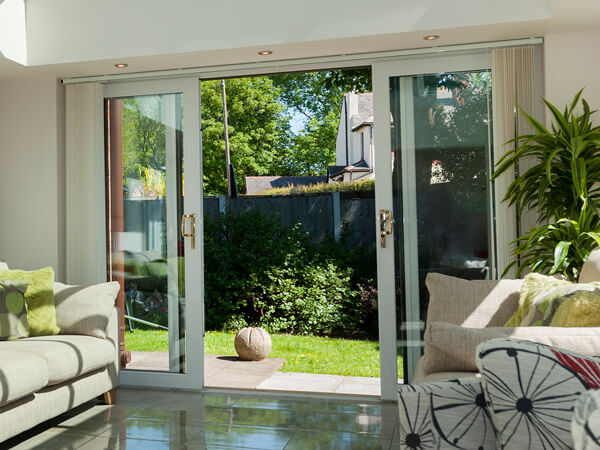 Those fortunate enough to own a conservatory or orangery will sometimes choose to have a set of sliding patio doors integrated into the design to further enhance the structure.
This isn't a problem, but there may only be a limited sized aperture for it to fit within, in which case we will custom-make a solution comprising two, three or four panes of glass. Feel free to also decide in which direction the doors open and close.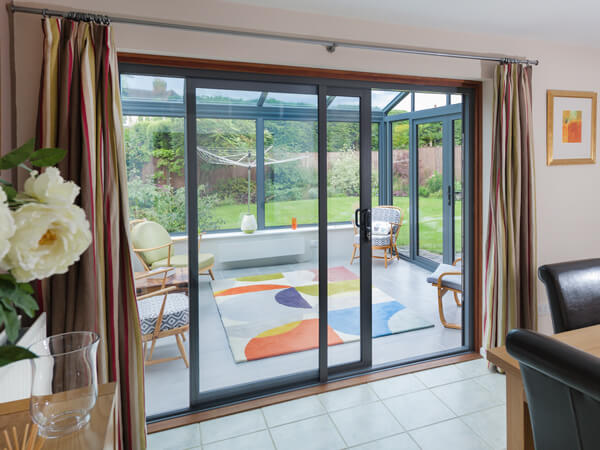 ACCESS YOUR GARDEN IN A WHOLE DIFFERENT WAY…
You can literally slide into your garden and back into your home when you invest in a set of patio doors. If you are finding it increasingly hard to locate space in your home when lounging or dining, a set of patio doors could be the perfect solution. The doors run on a sliding mechanism, making it easy for any member of the family to get access to the outdoors whenever they want throughout the year. When locked shut they will also enhance security as they come installed with a locking system designed to shut the door in the face of burglars or any other sort of disturbance.
You'll appreciate the slender frames of our aluminium patio doors…
Aluminium offers several qualities but its most prevalent feature is its sleek sightlines which enables a sizable expanse of glass to be inserted within the frame. Those who opt for aluminium are very rarely left disappointed by their decision such is its knack of giving a property of any age some much-needed kerb appeal.
The subtleness of the intricate contour on the external side of the frame gives it a beauty that you only thought could be achieved with traditional timber. The powder-coated finishes applied to the profile also give it a rich and deep texture.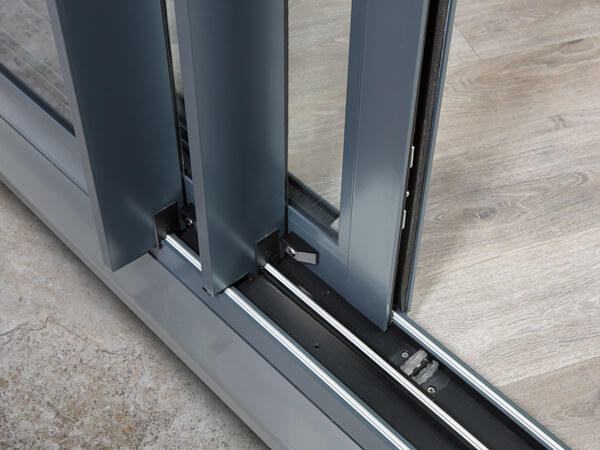 We enhance the vibrancy and quality of our aluminium finishes by powder-coating them…
In order to create rich finishes, we use an 11 stage powder coating process. The results are vibrant and long-lasting. For our aluminium woodgrain finishes, we use a procedure called sublimation to create a realistic timber effect. Favourites include our Oak, Walnut and Rosewood finishes.
UPVC is extremely low-maintenance and affordable
UPVC can be the favoured material for the majority of homeowners which is no surprise when you consider how affordable, enduring and easy to clean it is. The level of energy efficiency UPVC provides is incomparable to making it a popular choice for anyone looking to reduce the cost of energy bills and reliance on central heating. It oozes in charm and authenticity and is virtually maintenance free.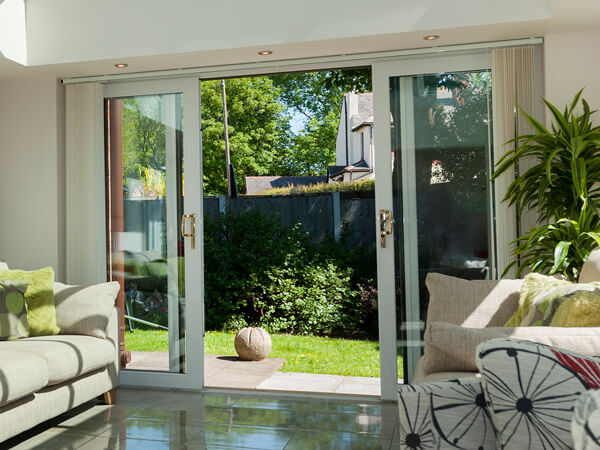 We can help you find the perfect textured woodgrain or smooth surface finish…
Our UPVC patio doors can be finished in a wide range of colours, from the very traditional to the truly unique. If you want a white finish, we have you covered. But you'll also find a number of on-trend colour finishes, from a variety of grey tones to our best-selling finish of Chartwell Green.
REQUEST YOUR FREE DOOR QUOTE
Simply fill in your details for your free, no obligation quotation, and click "Get Quote"
NEED MORE INSPIRATION? REQUEST A BROCHURE
Simply select the brochure(s) you would like to browse, fill in your details, and then click 'Download'.
Step 1 - Please select the brochure(s) you would like:
OUR FINANCE CALCULATOR
See how affordable your home improvement can be with our Finance Calculator.
Want to speak with an Advisor? Give us a call on 0800 318 140
Our friendly team will be pleased to help with any questions you may have.