Your home will be a pillar of security when a set of aluminium windows have been fitted as the material has a toughness to it that very few alternative materials can match.
Because it can be moulded to create slender sightlines, it also means that a huge expanse of glass can be inserted into the frames, and more glass means more sunlight and warmth. We can also finish your windows in a number of powder-coated and timber-style colours and effects.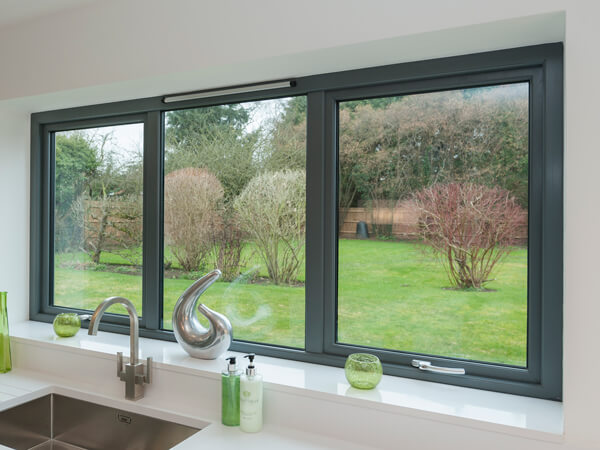 Due to the strength of the aluminium frames, this window range is incredibly weather-resistant. The slim frames and large expanse of glass add a welcome modern feel to properties and they are perfect for homeowners who dislike bulkier window styles.
Most people would appreciate more natural light in their home and our slender aluminium windows welcome plenty of sunlight inside, creating a bright and inviting space.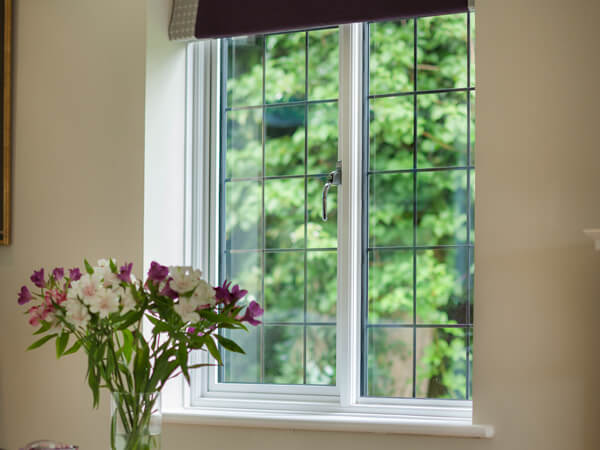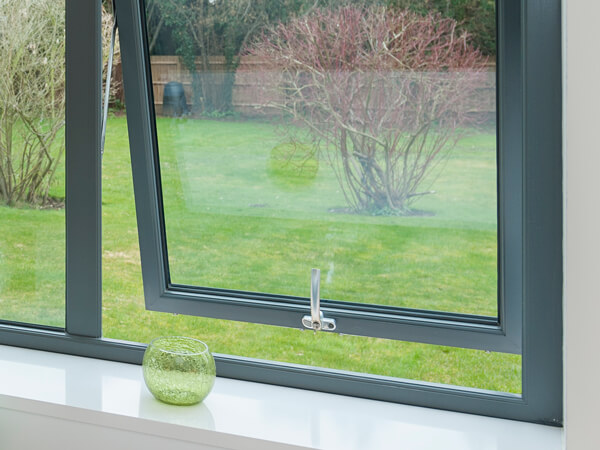 Eclipse Aluminium Windows
There are countless outstanding qualities to our Eclipse Aluminium Windows. They are tough, slender and secure.
Click on the hotspots opposite for more information on what makes these quality windows so special and why they are favoured by many homeowners throughout Yorkshire.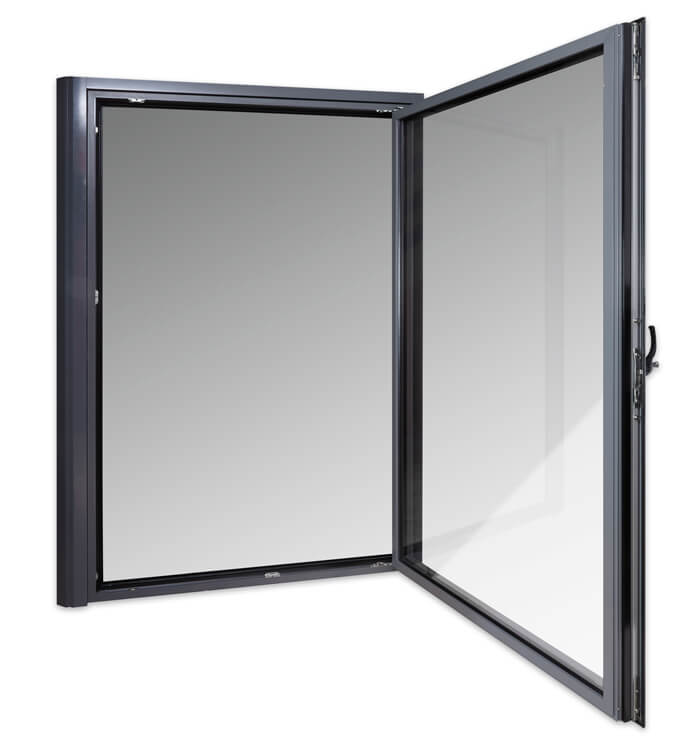 Eclipse Hinge
Our highly engineered hinge provides increased load bearing and features unique anti-crowbar technology, providing a lifetime of protection and reassurance. With 90 degree opening and Egress easy clean as standard, window maintenance has never been so simple.
Eclipse Glass
High performance, next generation glass offers excellent energy efficiency. With an ultra-clear outer pane, and a super soft coat inner pane as standard.
Eclipse Frame
A true declaration of style. Our low density, slimline frames are perfect for a clean, modern appearance, but are also built with the strength to withstand even the harshest of weather conditions.
Eclipse Locking
The sophisticated multi-point lock within the Envisage system ensures the window is fully secure when locked. Featuring our patented 'Secure It' mechanism, the window was tested over 30,000 times during the development stage.
Eclipse Weather Seal
Dual density and high elasticity for twice the coverage of standard windows. The Eclipse flush casement range boasts long lasting airtight protection from the elements and added noise reduction.
Giving you an exceptional view…
You will be surprised to see how slender the aluminium window profile is as it can be moulded into the sleekest of sightlines. This means the focus is on the high proportion of glass.
Having more glass incorporated into the frame will also help you draw more sunlight into the property and the RAL powder-coated colour is certain to catch the eye.
YOU CAN DICTATE THE DESIGN
The end design is not finalised until the customer chooses the finishing touches, such as finish, glazing and hardware. An Orion advisor will be on hand to help you create the perfect Eclipse aluminium window.
Our powder coated aluminium finishes are exceptional quality...
The quality of our aluminium colours is achievable due to the 11-stage powder-coating process that we implement to create each individual finish. We even produce a number of timber-effect finishes done by undertaking a method of sublimation which results in a rich Oak, Rosewood and Walnut. You will find it hard to believe that the timber-effect finishes aren't actually wood-based; such is the likeness they share.
Our energy-efficient glazing options can be broken down into two types - plain and privacy.
There are several types of glazing that can be inserted into the eventual window frame you choose so make sure you carefully assess all the options. For those keen to drive down the cost of energy as much as they can, we recommend Energy Rated Windows, an 'A' rated window in particular. Leaded glass and astragal bars are a further way of giving your windows some character. Most windows will use plain glass, however privacy glazing is great for rooms where you want to increase privacy.
REQUEST YOUR FREE QUOTE
Simply fill in your details for your free, no obligation quotation, and click "Get Quote"
NEED MORE INSPIRATION? REQUEST A BROCHURE
Simply select the brochure(s) you would like to browse, fill in your details, and then click 'Download'.
Step 1 - Please select the brochure(s) you would like:
OUR FINANCE CALCULATOR
See how affordable your home improvement can be with our Finance Calculator.
Want to speak with an Advisor? Give us a call on 0800 318 140
Our friendly team will be pleased to help with any questions you may have.