Stable doors have a long history in the UK. Created in the 17th century, they became popular on farms as a way to keep children safe inside the home and small farm animals out, such as chickens, of the property.
Today, Orion has used modern components to create a modern, secure and durable door with all the original charm of the very first stable door.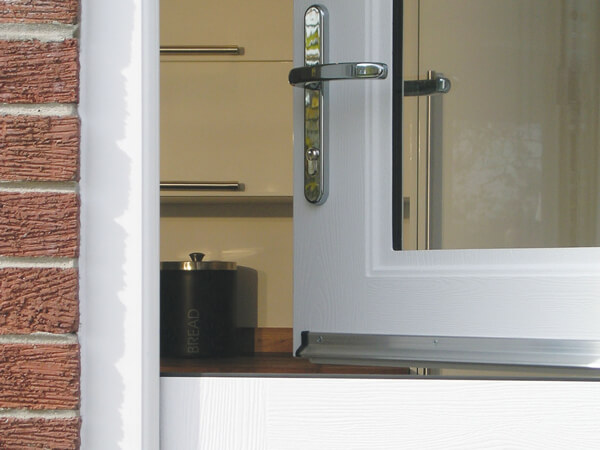 Stable doors are unique doors. They are split into two sections that can be opened independently from each other. This is particularly useful if you want to increase the light and ventilation in your home, as you can open the top half, whilst keeping your young children (or pets) inside.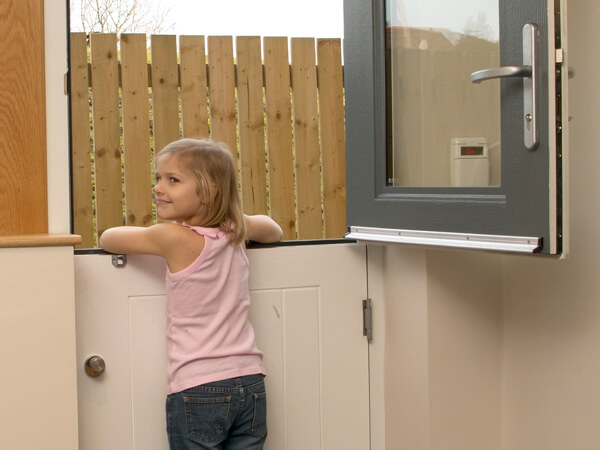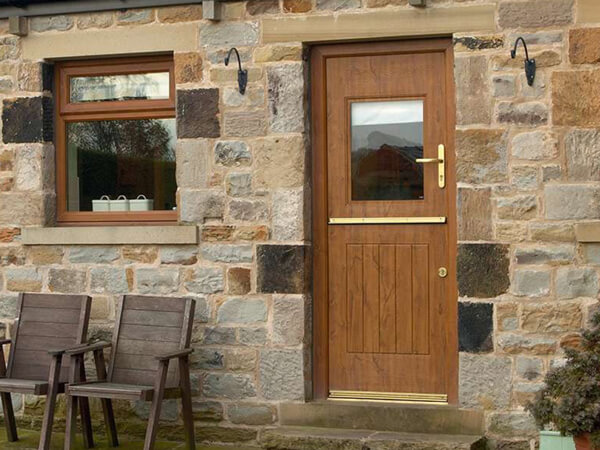 Take a look at our Composite door features...
You'd be forgiven for thinking that a Composite Door was actually real wood. The authentic wood grain finish emulates, almost beyond belief – the appearance of painted timber, and this is wonderfully complemented by sophisticated hardware, door furniture and glass patterns.
View the notable features of our composite doors by clicking the hotspots opposite.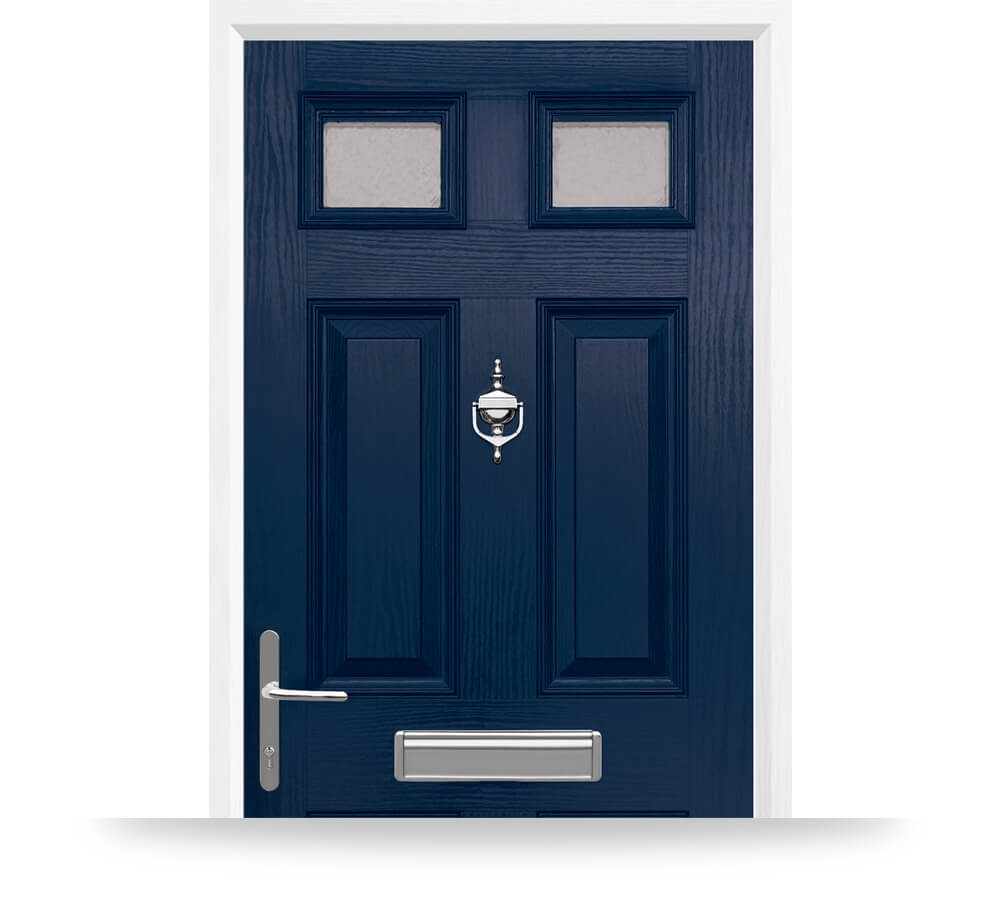 Frontline Security
High-security multi point lock which engages automatically upon closing so no need to lift the handle to engage your door, which means no more draughts or cold spots.
Frontline Hardware
Our Frontline Composite Doors come with a range of hardware including letterboxes, knockers and handles in a variety of colours to suit your home, they're built to last with robust materials and quality finishes.
Frontline Hinges
Anti-crowbar technology that delivers ultimate strength. Horizontal and vertical adjustment that results in 360-degree compression on seals for weather tightness.
Frontline Glazing
Available with a wide range of glazing styles, including obscure and decorative glass.
You won't find a more efficient door for your home...
The thermal efficiency of a composite door is outstanding and compares more than favourably with any other door type. If draughts have become prevalent in your home due to your existing door reaching the end of its expected lifespan, then it's best to get it immediately replaced and there's no better substitute than a composite. Any trepidation you had when opening energy bills will be eradicated as you can expect a new composite to lower your heating costs by a significant margin.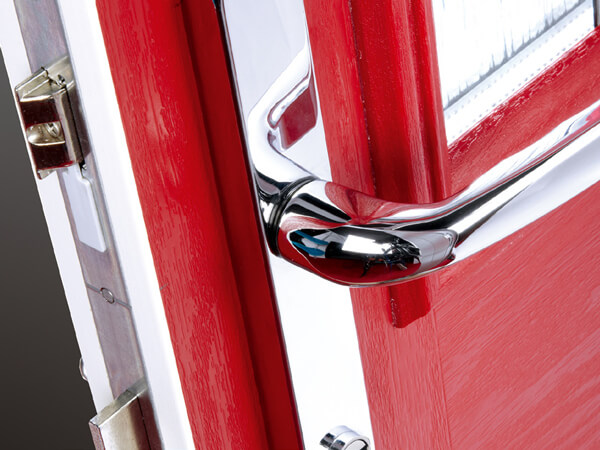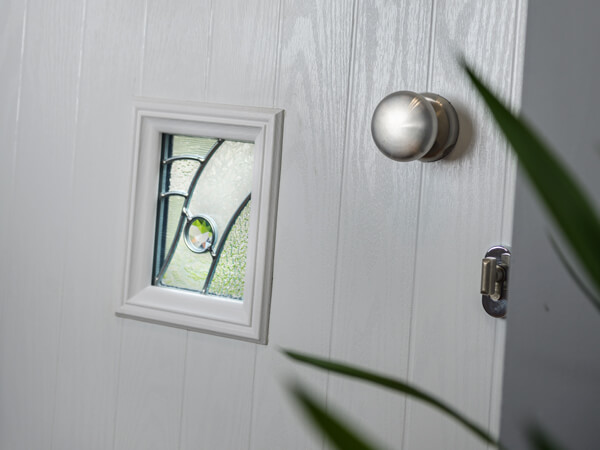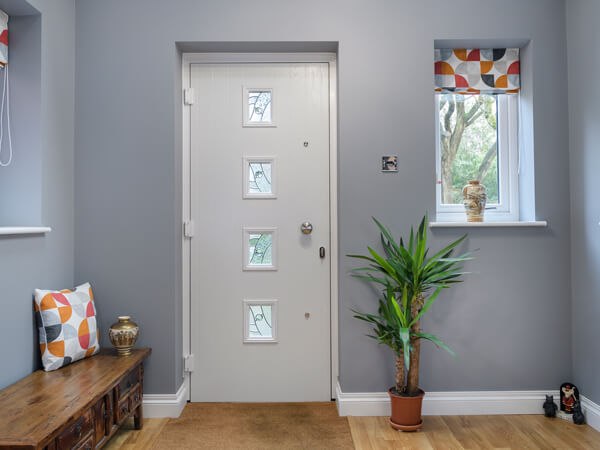 CUSTOMISE YOUR COMPOSITE DOOR
There are endless possibilities when it comes to customising your composite door. From design to colour, glazing to hardware, you'll find enough options to satisfy even the pickiest of tastes. There's no need to feel overwhelmed - our in-house team will be able to walk you through our numerous options to create a door that's you. Your door - your choice!
There's a colourful composite for each and every home...
We have the usual conventional array of composite door colours such as blue, red, black and white, as well as a wide selection of more contemporary favourites including chartwell green and grey. If you're looking for a composite design that looks exactly like traditional timber then you best check out our oak and darkwood finishes, which share all the aesthetic characteristics of a wood effect door.
A two tone colour is paired up with a moulded woodgrain, something that is achieved during the unique colour application process.
Choose a handle that fits in with the design…
A huge amount of attention to detail goes into our handles, so you can be confident they will perform well and look great, ensuring entering and exiting your property is a breeze.
We are proud to stock a wide range of door handles, from the quirky and contemporary to the classic and traditional. Make sure your composite door has a bold look, complete with the perfect hardware.
Transform your door with some carefully selected hardware...
No-one would ever consider having a door fitted minus a letterbox and stylish handle as they're both integral pieces of door furniture and a door is no good without them. We have an extensive hardware range available so that you can accessorise your composite door however you want. It'll be the hardware that catches the eye whenever visitors approach your entrance so concentrate on purchasing hardware that gives the overall design a huge aesthetic lift.
REQUEST YOUR FREE DOOR QUOTE
Simply fill in your details for your free, no obligation quotation, and click "Get Quote"
OUR FINANCE CALCULATOR
See how affordable your home improvement can be with our Finance Calculator.
NEED MORE INSPIRATION? REQUEST A BROCHURE
Simply select the brochure(s) you would like to browse, fill in your details, and then click 'Download'.
Step 1 - Please select the brochure(s) you would like:
Want to speak with an Advisor? Give us a call on 0800 318 140
Our friendly team will be pleased to help with any questions you may have.