How do I choose between a tiled roof or a glass roof?
There are many things you should consider before settling on either roof. How do you plan on using your space? What direction does your room face? Do you have a budget in mind? If you are wanting a space with natural light in abundance and a full view of your garden or patio, our solar control glazing could be the solution. It has modernised in recent years so you can feel confident that your room will remain a pleasant temperature.
If you are eager to use your living space in all kinds of extreme temperatures, it would be smart to go with a solid tiled roof instead. We can also add full length glass panels or Velux windows for additional light – the best of both worlds!
Contact us to learn more about your options in terms of your budget and style preferences.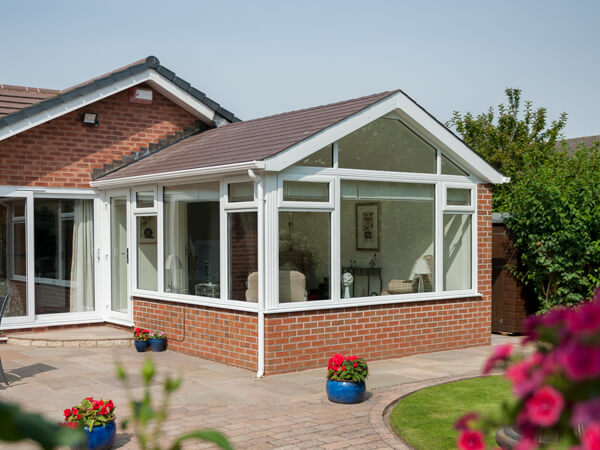 Should I replace my frames too?
When you replace your old roof, it is recommended you replace your windows too. Even if your new roof is much more thermally efficient, drafty windows will hinder its performance. Don't compromise the warmth of your home – upgrade your windows too.
Why spend on a new roof without considering upgrading your outdated windows? We can give you a great deal when replacing both your roof and frames in the same installation.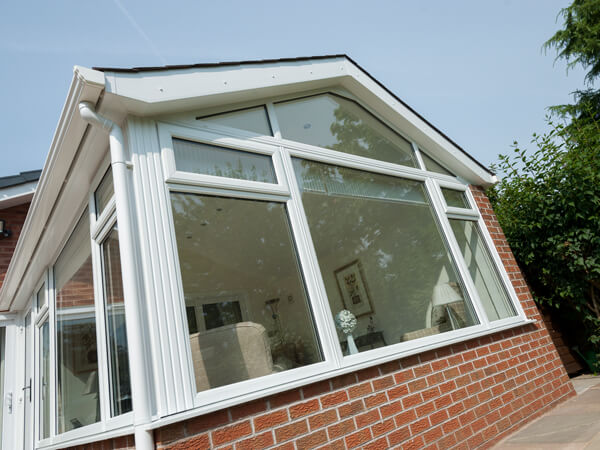 MORE COMMON QUESTIONS
The Orion team is always willing to answer your questions when it comes to the details of our products and their unrivalled performance. Read our most commonly asked questions below.
What are replacement tiled roofs made of?
Our replacement tiled roofs are commonly prefabricated so we can install them in your home quickly with minimal fuss. The roofs are bespoke as they are tailor-made to your exact measurements and style preferences.
Made from a pre-engineered frame, insulating panels, insulated fire-grade plasterboard, exterior grade plywood and an impenetrable membrane, our roofs are surprisingly lightweight. We will finish the roof from your chosen tiles or you may opt for solid panels for a more natural aesthetic.
What is a Clad over roof?
Weight: Made from heavy timber, insulation materials and tiles, Clad over solutions are often too heavy for existing frames. Old conservatories need a lightweight roof and the lightest solid roofs come in at 31KG/M ².
Our Tip: Always speak to your installer about the total unit weight of the new roof per Sq.M
Fire Safety: Clad over systems are only tested for fire safety as individual parts and never as a complete roof structure. It is necessary to be tested as a whole structure in order to meet fire safety building regulations. Solid roofs must be classified as AC, AB or AA in accordance with BS476-3.
Our Tip: Request to see the fire safety certificate of the entire roof system before moving forward.
Building Regulations: Clad over systems often don't get Building Regulation Approval because of their low thermal value or structural integrity. You should not confuse this with the commonly necessary planning permission. You must notify Building Control if you are making alterations to any structure (including replacing a glass or polycarbonate conservatory roof with a solid roof). Their approval ensures your new roof is structurally sound.
Our Tip: You should ensure that local Building Control has been informed before the conversion begins. Remember to obtain a Building Regulations 'Final' Certificate and file it in a safe place.
Will my new roof still be too hot in summer and too cool in winter?
No. Each roofing system has been manufactured to make your living space useable throughout the year in every kind of weather. We use solar control glazing on our glass roofs which reflects excessive heat out of your space during hotter weather and traps heat inside during the colder spells. If you are particularly worried about being able to use your living space, you should opt for a solid, tiled roof from us.
I'm curious about energy rated windows! What does it mean when windows are 'A' rated?
You may be hearing a lot about A rated windows as homeowners are increasingly concerned with the energy efficiency of their homes. If a window is A rated, they are the most energy efficient windows available on the modern window market. This rating was formed by the BFRC Rating Scheme – the UK's national system for rating energy efficiency.
A rated windows are the most energy efficient windows available in the UK as defined by the BFRC Rating Scheme. This is the UK's national system for rating the energy efficiency of windows and is recognised within the Building Regulations as a method to show compliance for your replacement windows installation.
Window Energy Ratings use a consumer-friendly traffic-light style A-E ratings guide similar to that used on 'white' goods (such as fridges, freezers, washing machines etc…).
This ratings label can be used by you to make more informed choices about the energy efficiency of the windows you are looking to purchase.
How much will it cost to replace my existing roof?
You should expect to spend anything from £5,000 for a small conservatory roof, to £12,000 for a larger one. Don't forget, there are many ways to spread the cost of your new roof over monthly installments to suit you. Orion has a handy finance calculator which can help you work out an easy payment plan that matches your budget.
How long will it take to replace my existing conservatory roof?
A tiled solid roof replacement can be installed within a few days with minimum disruption to your home.
Do I need planning permission to replace an existing roof?
Planning permission is not needed to change your roof on an existing structure, but Buildings Regulation Control is a mandatory requirement, a property sale cannot be made without this.
Do I need Building Regulations Approval?
Gaining Building Regulations approval from your local authority means you can be sure that the system installed has been rigorously checked by a government approved building control inspector to ensure the roof is installed correctly and is structurally safe and thermally efficient. You will also have peace of mind that should you come to sell the property in future, there won't be any issues with unauthorised works that may hold up the process.
Do you offer finance to help me pay for my replacement roof?
Yes. To make life easy for you, Orion can arrange a variety of affordable and convenient easy payment finance options (subject to application & status). Applying for finance is simple and we promise you a quick decision. Everything can be sorted out with you in the comfort of your home or at your local Orion Showroom, so you can enjoy whatever you've set your heart on right away.
What do we need to do when our finance is approved?
If you're arranging your own finance, you'll need to call us as soon as you get the go ahead. If you're taking up one of our offers, the company will tell us both directly, so there's no need to call as we will get in touch with you.
What happens if finance is refused?
Finance companies can turn down people for lots of reasons, for example if you've moved several times over the past few years. In these circumstances, we always do our best to help and sometimes it's worth trying another provider, especially if they know you.
I've applied for finance with Orion. How long will approval take?
Sometimes our finance company will say 'yes' almost immediately and on other occasions it may take them a few days. This short delay can be for any number of reasons and you should not be unduly concerned.
OUR FINANCE CALCULATOR
See how affordable your home improvement can be with our Finance Calculator.
NEED MORE ANSWERS?
Simply fill in your details below and one of our customer advisors will get in touch to answer any of your questions.
Want to speak with an Advisor? Give us a call on 0800 318 140
Our friendly team will be pleased to help with any questions you may have.